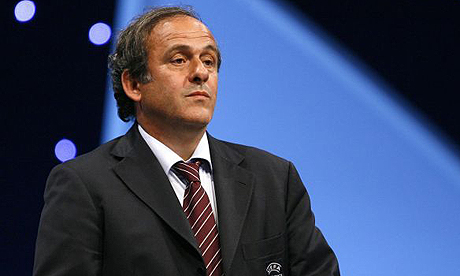 Michel Platini has never been one to shy away from controversy, the former French striker & the current president of UEFA is a regular when it comes to back page comments, regardless of who they affect & how.
To start off with, the fellow doesn't exactly have the easiest job in the world; he's both indirectly & directly responsible for the wellbeing and integrity of some of the best footballers in the world... & their respective clubs. Subsequently it becomes difficult to clearly establish whether or not he is a friend or a foe to the game.
At the risk of sounding one sided, I'm going to focus this article on the single biggest issue that Platini has backed in recent years & hope that our readers can come to a conclusion.
To give an idea of the man, a recent idea that he's backed is the '6+5' policy – 6 home, or domestic players and a maximum of 5 foreign players. The thinking behind this was to encourage and restore a national identity for football clubs, many who'd resorted to buying big internationally and at the same time the idea was to help reduce the pay gap between big and small clubs. In this increasingly global sports market, an idea like this may seem farfetched & you have to have big names supporting it or it will never take off. Platini, being a pivotal man in Europe, would seem like the ideal candidate for such a plan. He was and is taken seriously with this 6+5 policy & although variations are being made to the policy, the ball is rolling on it. So by supporting such a controversial plan is he seen as a friend or a foe of the game?
Open any paper and read about the ludicrous pay that footballers are on, read about their lavish, sometimes deplorable behaviour – their lifestyle is funded by their pay packages. Ok you can't stop clubs from paying the rates but by encouraging youth & local player development (as the policy would indicate) would help curb the excessive transfer fees and the pay packages. Unless you are a big, big club, there is no doubt that money & financial problems are always looming – just look at Premiership side Portsmouth, they play in the biggest league of them all & are on the verge of bankruptcy. Why? Player's fees, agent's fees, legal fees, all outgoings that, if their players were local could have been avoided.
Lets look at the flip side of this? Define local & define international? Quick example, I go to America & happen to meet some French or Germans, well thats cool because we're all European, part of the continent, neighbours, locals...I go to Spain and meet Scottish or Welsh people, cool because we're British...I go to Newcastle & meet a Londoner...you get the idea. Clubs will find great loopholes; they'll argue that the new Spanish wonder striker's step-mum's uncle was conceived in a pub in Walthamstow so he's classed as a domestic player for Spurs. Now unless FA & UEFA want to do extensive backup checks on every player to grace football pitch, the 6+5 policy would be difficult to police. Clubs have too much power and too little respect for Platini for it to work effectively. Instead of crazy agent's fees, clubs would be investing in law firms to find loopholes, the easiest being "Uefa definition of "home-grown" which covers any player trained for three years under the age of 21 in the country where their club are based" which can so easily be circumvented as to make the rule change almost laughable and is a policy that many of the English clubs adopt anyway, including LIverpool and Arsenal.
Platini, your heart is in the right place, I'll argue that with respect to a 6+5 team you are friend to the game, no doubt if it was followed 100% by all, it would do wonders for the game on a local scale and still allow for international exposure; however we all know that it's not really enough – to have a heart in the right place. So does that mean in order to be a friend of the game, you have to essentially kill off what we recognise as a world-class team? Many would find this unacceptable and I feel that to a degree this is what causes fans to consider him as a foe.
Omar Malick